This page offers short rhymes that OldCoder wrote either for friends or with them.
For the previous page, click here. For the next page, click here.
190410. Rhyme Advice Offered Once and Not Twice.
This is advice that I've offered to Edgy McEdge on the occasion of his 19th birthday. Note: You'll find Mr. McEdge's performance of a nice hymn on the OldCoder Tindeck page.
1. Years to come, in short, to sum
It's not just a job
It's adventured
Don't proceed as though indentured
2. Nothing adventured, nothing gained
Analysis doesn't need to be fine-grained
Too serious is likely insaned
In the end, nothing remained
3. Too light is also a plight
Strive for the right with a degree of might
But rigid is frigid and cold is not best
Find the balance that's needed on the quest
4. No advice need be heeded
But to Time all is ceded
Do what you can while you can
That's how not to be also-ran
5. The years will be cheers
Don't overdo the beers
Yes, there are fears
But destiny is heres
Happy Birthday to the Traveler
You'll succeed and not unraveler
I like to make use of and encourage lesser-known FOSS projects. Fossies is a good example. It's a very nice FOSS directory and archive run by an older Coder named Jens. The site is located at:
Jens went on vacation for about two weeks. He didn't announce his return, but I noticed that he was back. So, I sent him a Fossies Song. Here's the song followed by his response.
1. A day without Fossies
Is one of total Lossies
There is no coin to toss
Without FOSS it's a LOSS
2. There are many places for code
Github is one abode
But each abode lightens load
And such abode means no forbode
3. Code all day and all night
Code all night while sun shines bright
Sleep all day and shout hooray
Reach for a bottle of code
Jens' response:
You have a good sense and very attentive eyes: Yes, yesterday evening I and my car came after 4 weeks and 5555 kilometers from Germany to the nearly southernmost point of Europe (Peleponnes, Greece) back at home.
Your surprising poem has made me very happy!
Thanks
Jens
RSS Feed is What We Need.
Mr. Meow asked for an RSS feed
Mr. Meow request we will heed
RSS feed is what we need
RSS feed is modern breed
Here you go
160916. Black Wings Statue Sings.
The Doctor of Diamagnetism is an associate of mine from a FOSS project of the 2000s. He has the same birthday as I do though he's about 25 years younger.
Actually, there's enough years between us that I'm more than old enough to be his father, even though he's in his 30s. Common these days, difficult to process.
The Doctor of Diamagnetism said something interesting today. I told him that it sounded like the start of a song. He immediately tapped out a piece that I edited and here it is.
1. I'm using my head for an ashtray
Neuronal deficiencies, redevelop proficiencies
Rhyme logistically, statistically
Bayesian or Frequentist...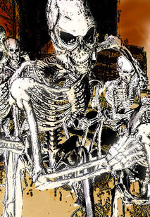 2. You can't do much to deny this juice
to categorize the moose
in your head where your cat used to be
before she died after 17 years of living so free
3. World is cold, OldCoder
Alabama is a cold, cold world
even when it's hot
People come and go, life is ephemeral
Hang on to who you've got
4. Struggle for ends and dividends
Fail at love a lot
Feel like a monk before he's cloistered
Last chance to have oystered
Vows of silence and poverty fill the mind
People are not kind
5. Forever on the edge of never
Face the tedium to come
Your parents are you and you're the product
Never to be repeated
Time past is time gone
Like winter snow on summer lawn
6. Our forebears linger on
Guiding us from within
Eons of genetic sin
Many whips to the ass make a young man old
If he's lucky, he'll still be bold
7. I'm Mr. Business
When did I shift to shift-less?
I'm a living statue
I'll ossify at the moment of my greatest triumph
Ether will drip from my soul
Then I'll turn to granite
8. Black wings will flap
Carry the statue with the winds
Strange authorities will be forced to chart the position
of the statue that reality rescinds
9. Lands in front of parked cars, dropping granite before them
disappearing from the police lockup because it brings bad luck
Quack, WTF, says the wand'ring duck
10. Anyway, it's a poem
Your poetry is excellent, OldCoder
Lemon Djinn
Repost of a drawing by the Doctor of Diamagnetism.
Your phone or window is too narrow for the image. If it's a phone, try rotating the phone or switching to a PC. Or
click here
to go to a copy that may be zoomable.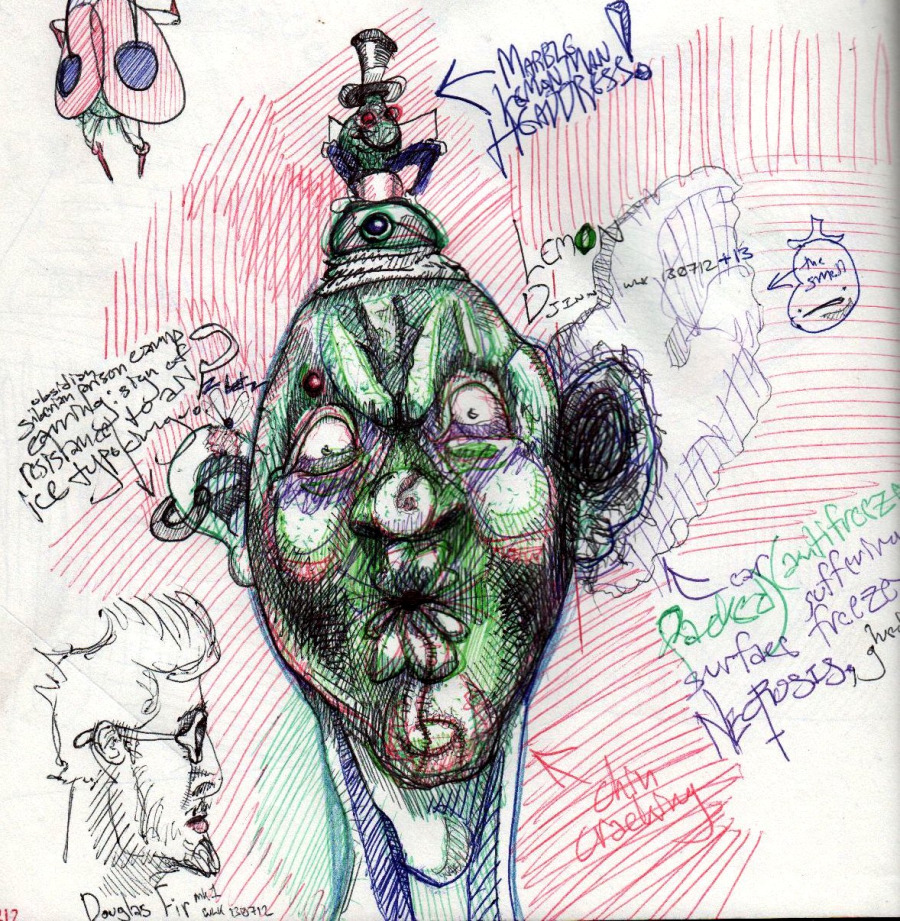 121201. Cooking Food.
This piece is by Loome, aka Rubidiun, and OldCoder.
1. I did it!
I made food
I sat up
I went to the kitchen
2. near the stove
I grabbed a pan
to cook food on and
I cooked food on it
3. I now have food, hot and ready
to be eaten
sitting near me as
I write this
4. I will eat it soon
when it becomes suitably cold
because presently
it is too hot
5. I can't eat it now
I will spend the time waiting
for it to cool
by talking to you
Your phone or window is too narrow for the image. If it's a phone, try rotating the phone or switching to a PC. Or
click here
to go to a copy that may be zoomable.